Capacity and Power of Attorney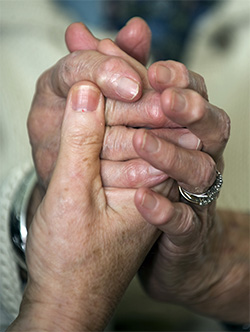 Capacity is the term used when the patient/client has the mental ability to understand decisions, why they need to make decisions and the consequences of their decision. They should be able to communicate specific decisions at the time they need to be made. about their care.
Image: © Crown Copyright
While the patient/client has capacity they can plan in the event that the illness will affect their capacity to make decisions in future by naming a Power of Attorney.
A Power of Attorney (POA) allows a person to plan for their future financial and/or personal affairs to be dealt with by a nominated person (attorney) when they are no longer able to express their needs.
A Welfare attorney will make decisions regarding treatments or care based on their wishes as discussed when making the POA.
A Financial Attorney can handle bills, manage bank accounts handle financial affairs.
An individual who is unable to make their own decisions is said to have Incapacity*.
Guardianship - If a financial POA is not in place, family will have to apply for Guardianship to control the person's financial affairs. This can be very costly and time consuming to arrange.
---
Reference
Additional information