How can I help my patient avoid bad breathing habits?
Remember/encourage Good Breathing:
Breathe in and out through the nose.
Breathe slowly.
Feel tummy rise and expand like a balloon as they breathe in.
Keep upper chest and shoulders relaxed.
Avoid Deep Breathing:
Deep breathing is unnecessary when the patient is not exercising or when they are at rest.
Keep breaths slow but small (low to medium volume).
If the patient practises deep breathing as part of a relaxation technique or to control panic, they will blow out too much carbon dioxide and risk developing symptoms of hyperventilation.
Breathing control techniques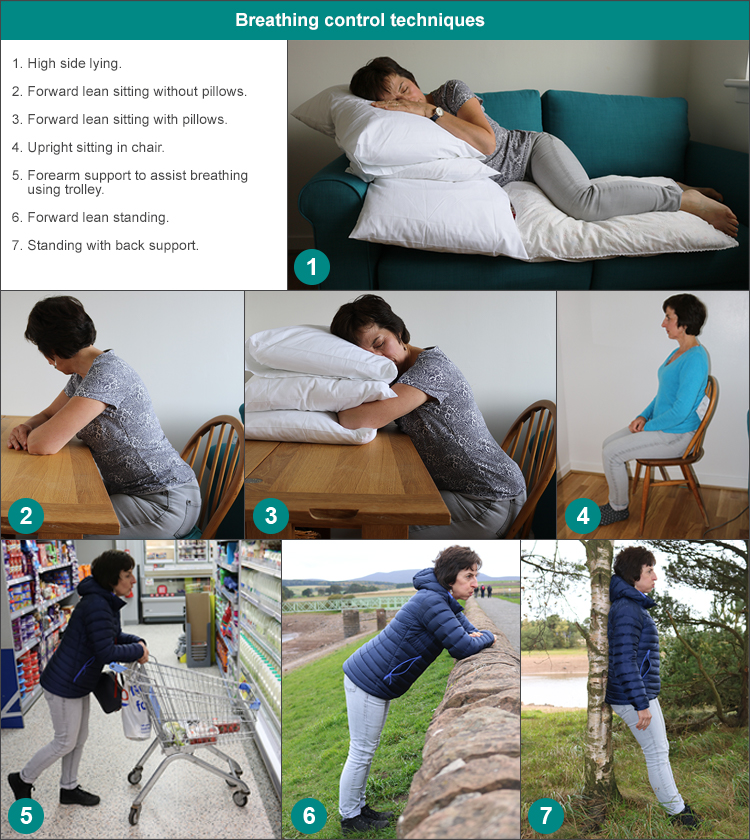 Photographs by Wendy White
View text alternative

High side lying.
Forward lean sitting without pillows.
Forward lean sitting with pillows.
Upright sitting in a chair.
Forearm support to assist breathing using trolley.
Forward lean standing.
Standing with back support.
Additional information