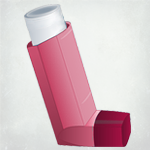 Combination inhalers containing a long-acting beta2agonist (LABA), an inhaled corticosteroid (ICS) and a long-acting muscarinic antagonist are available: triple therapy. These combinations may be used to step-up treatment in patients with both COPD and asthma or for those who have a severe exacerbation or at least two moderate exacerbations of COPD in one year, requiring treatment with oral steroids or in those for whom their day to day symptoms are having a major effect on their life.
Triple therapy inhalers currently available are:
Trimbow®pMDI(beclometasone with formoterol and glyccpyrronium)
Trelegy®Ellipta® (fluticasone with umeclidinium and vilanterol)
Trixeo®Aerosphere® (fluticasone with glycopyrronium and budesonide)
Additional information on strength and dose instructions can be found in the BNF.