There are now a wide range of tools and help to people to stop smoking. Everyone who tries to quit is different and some may have attempted to quit before and failed. Many ex-smokers needed more than one attempt to find the right method for them. They also need support and to be ready and motivated to quit for their own reasons.
The best and most effective way to quit is by using health support from your GP, NHS quit smoking services or pharmacy.
Here are some options:
NHS smoking cessation: This can be in a support group, one to one or online.
You can contact Quit Your Way Scotland for free by:

Phoning a Quit Your Way Scotland advisor on 0800 84 84 84.
Chatting online with a Quit Your Way Scotland advisor.
Helpline and webchat services are open: Monday to Friday, 8.00am to 10.00pm Saturday and Sunday, 9.00am to 5.00pm.

If the person has been in hospital following an acute exacerbation of their lung disease, it is often the turning point to offer them help to quit. GP's and practice nurses can help to find options. People who are housebound can sometimes be offered home visits to quit.
Medication – Nicotine replacement can come in a variety of forms, it can be used alongside medication to reduce cravings for nicotine and the withdrawal symptoms of stopping smoking.
Local pharmacies – Pharmacists are trained to discuss and offer options over the counter or by prescription.
Smart phone apps – There are various phone apps to give advice, support and help to keep motivation to quit with prompts and reminders.
Tell friends and family that you are going to stop smoking so they can help to encourage you.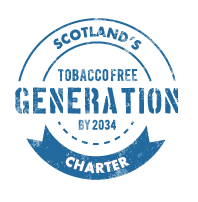 CHSS supports the Charter for a smoke free generation in Scotland by 2034 to protect young people and support positive health choices.